February 7, 2018
"Dude, it's Beacon Hills" – Danny, Teen Wolf
Indeed it is!
Hello! I am back with a tag because I couldn't think of anything else to blog about… SO I found this Teen Wolf Question tag from ChristyBella and due to my recent re-obsession with the show, I had to do it! So while I plan out future book posts, enjoy this!
If you want to answer these questions as well, leave them below or answer in your own post and let me know!
Okay, let's go!
WARNING: THERE WILL BE SPOILERS FOR THE ENTIRE SERIES. 
1) Favourite Male Character: 
Easy. Scott McCall. I always go back and forth between Scott and Derek, but I have to go with the True Alpha.
2) Favourite Female Character:
Lydia Martin for the win! I loved the way her character developed over the series. Also, the Banshee is probably the best supernatural in the series!
3) Least Favourite Male Character:
Uhh, is this even a question? Gerard Argent! He pissed me off in season 2 and then in season 6… Oh boy, I was ready to go all wolf on him myself. Good thing Kate did it first!
4) Least Favourite Female Character:
Jennifer Blake. Whether she really loved Derek or not, she's horrible and I'm glad she's gone. Plus, you know, she did human sacrifices. So there's that.
Oh and also Hayden..not a fan.
5) Favourite Werewolf:
Derek Hale. The OG. The Evolved. The Survivor.
6) Something You Wish Had Happened But Didn't:
Stiles becoming…something.
THIAM.
Stiles and Derek being in the last 10 episodes as series regulars.
7) Something You Wish Didn't Happen:
Stiles being taken by the Wild Hunt.
Aiden dying…. worst thing ever.
8) Favourite Scott Moment:
I mean, there are so many, but Scott becoming the True Alpha is ICONIC.
9) Favourite Stiles Moment:
Again, there are SO MANY. Stiles is literally who everyone quotes from the show, but if I had to choose one, I would go with when Stiles talks Scott down at the motel in season 3. Dylan's acting was incredible and in that moment Stiles really emphasized the bond between him and Scott and I cry everytime.
10) Favourite Derek Moment: 
This one:
11) Favourite Allison Moment: 
Basically any moment that she proves to be stronger than most of the wolves.
12) Favourite Jackson Moment: 
I mean… basically all of his moments in season 6
13) Favourite Lydia Moment: 
That epic fight scene in season 5 when she tries to escape Eichen and she becomes the badass Banshee we all knew she was.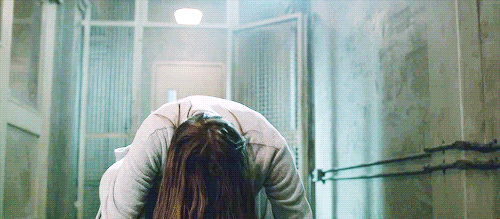 14) Favourite Parent:
Melissa McCall, my QUEEN!
15) Favourite Teacher:
Again, is this even a question. COACH. OBVIOUSLY.
16) Favourite Minor Character:
Isaac Lahey! (I'm counting minor characters as ones who never appeared in the title sequence)
17) Favourite Cast Member:
I've never personally met any of them, but I did win a signed photo from Holland Roden and Ian Bohen so probably them!
18) Favourite Ship:
STYDIA MY OTP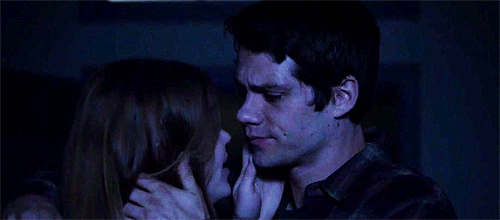 19) An Actor/Actress You Would Love To See As A Guest Star:
Well as the show is over, I cannot hope, but I would have loved to see Riley Voelkel who plays Freya on The Originals. I think she would have fit nicely and could have played a fun role alongside Derek.
20) Favourite Couple:
Stiles and Lydia
Scott and Kira
Argent and Melissa (honestly, best decision ever)
21) Favourite Song Featured In An Episode
When they used AURORA's Murder Song for when Lydia is trying to make Stilinski remember Stiles. I cried so much.
22) A Couple You Would Like To See Get Together:
I still like Liam and Theo and nothing will ever change my mind!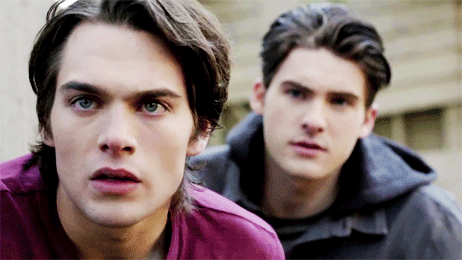 23) Most Upsetting Death:
Boyd, mostly because Derek had no choice over the matter and it broke him.
24) A Moment That Really Broke Your Heart:
When everyone was forgetting Stiles in 6A.
25) A Moment You Couldn't Stop Laughing At:
This one. Classic Stiles.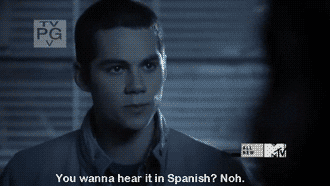 26) Best "OMG NOOOO!" Moment: 
When we all thought Derek died in season 4, but the bastard was just EVOLVING.
27) Best Plot Twist:
I'm going to agree with Christy and say Mason being the Beast in season 5!
28) Most Shocking Moment (I edited this for the overall series): 
I'm going to go with Allison dying as I didn't expect it to happen so soon. I knew Crystal had left the show, but I didn't know how they were going to do it, so yeah.
BONUS QUESTION: If You Could Bring One Character Back To Life, Who Would It Be? 
AIDEN.
BONUS QUESTION: Which Character Surprised You The Most:
Jordan Parrish.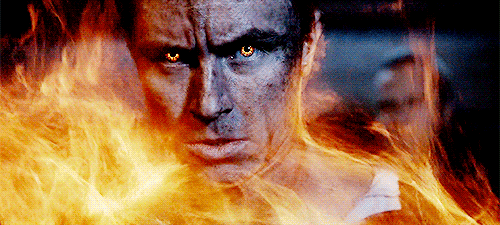 Okay and that's a wrap on that! Let me know what you think! I am off to rewatch the entire series as I am massively obsessed!
Happy Watching!
– Haley