May 10, 2017
"Only you can decide what breaks you, Cursebreaker. Only you." ― Sarah J. Maas, A Court of Wings and Ruin
In the words of one Ronald Weasley: "You're going to suffer, but you're going to be happy about it."
That was really all I could think as I finished "A Court of Wings and Ruin" by the incredible Sarah J. Maas. I am going to struggle to keep this review spoiler free, but I am going to do it, don't worry! I finished this beauty today and even though I was racked with sobs and I couldn't stop shaking, in the end I finished the novel with a smile on my face.
I swear, there will come a day when I do not turn into an emotional mess when I read a book…but today is not that day! I found this book to not only be heart-wrenching, but heart-warming as well. There were so many revelations throughout that allowed the characters to grow and change and if that isn't beautiful, I don't know what is! The synopsis of book 3 is as followed:
FROM GOODREADS: Looming war threatens all Feyre holds dear in the third volume of the #1 New York Times bestselling A Court of Thorns and Roses series.</i
Feyre has returned to the Spring Court, determined to gather information on Tamlin's maneuverings and the invading king threatening to bring Prythian to its knees. But to do so she must play a deadly game of deceit-and one slip may spell doom not only for Feyre, but for her world as well.
As war bears down upon them all, Feyre must decide who to trust amongst the dazzling and lethal High Lords-and hunt for allies in unexpected places. 
In this thrilling third book in the #1 New York Times bestselling series from Sarah J. Maas, the earth will be painted red as mighty armies grapple for power over the one thing that could destroy them all.
Doesn't that just make you want to dive right in? I should hope so. However, you do need to read the first two books…which are amazing as well! Enjoy!
I had a lot of expectations going into book 3 and I wasn't disappointed! I was completely surprised every chapter. Maas poured everything from her incredible imagination into this story. Not only were new things revealed about our favourite characters, but more of Prythian and its history as well.
A lot of stories that were told in the previous novels were expanded on and many things were cleared up. It was basically a whirlwind of twists, turns, valleys and peaks, and above else just plain BADASSNESS.
One of the main things that I loved about ACOWAR was that it kept you on your toes when it came to alliances. You never knew who was fighting for who. You may think one character is a Hybern soldier and then WHAM! They aren't, but then they are…and then they aren't and it just messes you up! AND I LOVED IT.
All throughout the novel, the good ole Cassian and Azriel humor flows and if Sarah ever wants to write a spin off series about when these two met…I would so read it! Speaking of our favourite Illyrians, they get to be badass as well…as usual. The inner circle is tested in ways we haven't seen before and it was so interesting to see how they worked together in a way that we had only heard about from the first War. It gave me a better appreciation for the characters and fueled the story beautifully.
As for the big bad of the book, The King of Hybern. I have many, many issues with him. However, I didn't feel as if he really was the villain of the story…does that make senses? In the first book, the way I felt about Amarantha was so…deep and fueled by loathing and hatred, yet with the King…I don't know, I just never really connected with him in the way I usually do with villains. I actually hated Ianthe a bit more than the King. I think it was mostly the power he possessed and the entitlement he thinks he deserves that irritated me the most. Who knows… Let me know if you feel the same way!
When it comes to Feyre, I found her character to be so fun to read and so much more developed in all the best ways possible. Her vulnerability was still present, but she really holds her own in the third installment and the love he has for Rhys and the rest of her family, I've realized is her biggest weapon of all.
When it comes to the overall tone and feel of the book, it can be summed up one word entirely: STRESSFUL. I have never felt this much terror while reading a book. Even if Elaine was baking cookies, I was so worried they were going to burn and that will someone trigger an intercontinental war (that didn't happen – not a spoiler). I literally feel exhausted after this monster of a book. Speaking of monsters…HA just kidding, READ THE BOOK.
There is so much to be said about this book, but if I said everything that I wanted I would be spoiling, so I am going to keep my mouth shut! I think you'll find that everything is not what it seems when it comes to book 3 and if you thought "A Court of Mist and Fury" was an emotional rollercoaster well….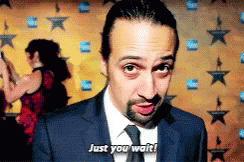 Explaining things in Hamilton Gifs seems the way to go if I'm honest. Anyways, I give this book a solid 5/5 Feyres….you know…cause she's a star…Ha…no? I'll stop. But seriously, 5/5 stars. This incredible page turner deserves an award for many reasons. It is a story for everyone, and I do mean everyone. I think any and all readers will find themselves within at least one character. Personally, I connect with Elaine, Azriel, and surprisingly, Amren. I hope you all will read this beautiful 700 page emerald and report back! I am off to catch up on my Riordan novels!
Happy Reading!
– Haley