April 29, 2017
"And here's to the fools who dream / Crazy as they may seem. / Here's to the hearts that break. / Here's to the mess we make." – (Mia) Justin Hurwitz (Music)
There is much to be said about a film that makes you believe in dreaming.
I finally did it. I finally saw "La La Land" and I can tell you this: it is now my favourite film…of all time. Sorry "The Perks of Being a Wallflower" and "Silver Lining's Playbook", "La La Land" has taken over. Now, this film came out in December of 2016 and I had failed to see it, but tonight I sat down with my mother and we immersed ourselves into the world of Los Angeles and the lives of Mia and Sebastian. A world I am more than comfortable to continue to live in.
As a musical, I knew I would like it, but I didn't expect it to be so much MORE. It wasn't just a story about two people, it was about dreaming and living your life to the fullest and never giving up. There was a sense of incredulity within the film and I couldn't get enough. If you don't know, "La La Land" follows the lives of two people, Mia and Sebastian. Mia is a struggling actress trying to make it big in Hollywood while Sebastian is a jazz pianist who wants to someday own his own club and revive the music he so desperately enjoys. They go on a journey together full of love, music, heartbreak, and above all else: ART.
I think that this film is one that will be considered a classic in many generations to come. Not only because of the incredible original music or the acting by Emma Stone and Ryan Gosling, but it has a timeless quality to it that I believe will reach all people across the world. I know that this film has been out for a while, but if you are one those people who have been hesitant to see it, I must insist that you rent it right now. Especially if you are a person that enjoys all things creative.
I thought this film was unique and beautiful, and even the cinematography made my heart swell. So many emotions followed through me as I experienced "La La Land" and that is all I can really describe it as, an experience. Even with the big dance numbers and gripping dialogue, there was a simplicity about Mia and Sebastian's story that I couldn't help but fall in love with.
This film is about dreamers and I knew that going in, but I didn't think it would affect me so much as it did. I mean, we all have dreams, right? Some are so far into the stars that it feels as if we can never reach them, but that doesn't mean we shouldn't stretch as far as we can and try to grasp onto that little fragment of starlight and bring it back down to earth to us. I think the reason I cried so much once it was over was because I too am a dreamer and I think I saw some of myself in both Mia and Sebastian.
There was mixture of vintage and modern and it was so different that you can't help but fall in love with the tones and vibrance of it all. The end of the film is what really made me think because it was so complex and yet so vividly beautiful, it sort of takes your mind away even for just a two and half minute song. I can see this film and its score being one that even if you only hear a few bars of "City of Stars" it'll take you back to when you first saw it and it will make you want to dance or sing or just take a breath and smile.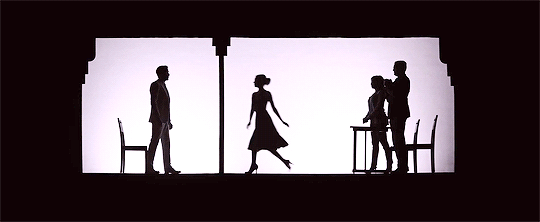 Damien Chazelle has created a work of art that I believe will be viewed for many years to come and be forever appreciated. This is a five star film for me and I am going to watch it over and over again. I will forever love this film, its music, its story, and its message. I may have gone way too deep, but I just…I have so many thoughts and I don't know how to simplify them. It doesn't matter if you hate jazz or think musicals are lame, watch this film. Experience the emotions and the story that is laid out in front of you. It will make you think, make you laugh, make you smile, make you cry, and above all else: MAKE YOU DREAM.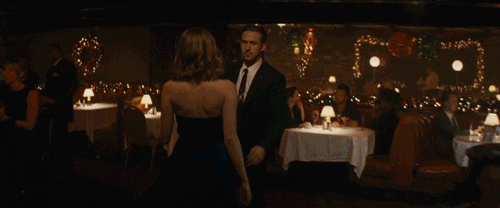 "Here's to the rebels, the ripples from pebbles, the painters and poets, and plays." – Justin Hurwitz
– Haley