WARNING: IF YOU HAVE NOT READ ALL SHADOWHUNTER NOVELS (INCLUDING BIND UPS) READ AT YOUR OWN RISK.
March 2, 2017
"Speaking of hope, did you see that shot Alec got off with his bow? That's my boyfriend." ― (Magnus Bane) Cassandra Clare, City of Lost Souls
This is a long time coming.
If you have never read my blog or seen my instagram, then you probably don't know just how big of a psychotic Shadowhunter Chronicles fan I really am. I started to read the books back in 2013 and have now read every single one from "City of Bones" to "Lady Midnight". I love Cassandra Clare's work so much that I would literally read anything the woman wrote. I started to read the book because the film was coming out and I am so glad I did. Now that the TV show is out, I have fallen back into the hole that is the Shadow World and this time, I don't think I am going to get out…
Anyways, I wanted to wait till I was completely caught up to do a Shadowhunter Chronicles tag and now is the time! I found this question tag over at Mara Was Here so you should go check her post out as well and hey if you want to answer these questions as well, leave them in a comment or tag me in your own post! I would love to read them! This tag will cover all books and bind ups as well as excerpts and extras! Now, on with the tag!
1) Who is your favourite character? (From any of the books)
This is pretty easy as my answer has always remained the same. Magnus Bane is my all time favourite Shadowhunter Chronicle character. First of all, he is in every story being that he is immortal. He has met all of our favourite characters and continues to make the story fun and interesting. I like that we have seen Magnus grow and change (even though he is everlasting) from The Infernal Devices all the way through book 1 of "The Dark Artifices" where he is a father. The High Warlock of Brooklyn is forever a badass, magic wielding, king and I will love him forever. I could go on and on, perhaps I'll make a post completely devoted to Magnus.
2) Who is your OTP?
Uh…I mean…is this even a question? MALEC. Magnus Bane and Alec Lightwood for me are the perfect couple. Why? Because they seem real. Obviously they aren't such things as Warlock or Shadowhunters, but they go through what real life couples go through. They argue, make up, break up, but in the end, they love each other. We see their relationship go through ups and downs from the first time at Chairman Meow's birthday party till Izzy and Simon's engagement party at the end of "Lady Midnight". I love the devotion they have for each other and the passion that they express. Forever my favourite couple. Oh and they are both pretty badass, no?
3) Who is the sexiest Shadowhunter in the series?
Bit of a weird question…but I am going to have to say Jace. I know that is so cliche and maybe William could battle it out with him? Battle of the Herondales? I think yes! I just can't help it! I mean Jace, he has these two sides that just scream attractive. There is the bad boy, doesn't care side, but then there is the piano playing, sensitive side that just makes me smile. So yes, Jonathan Christopher Herondale is the sexiest Shadowhunter. Sorry Will.
4) If you could have any Shadowhunter last name, what would it be?
I would have to say Fairchild. Simply because I like it and it flows nice. Think about it! Haley Michelle Fairchild. Sounds about right!
5) Who is your favorite actor in the TV show? 
Matthew Daddario. His portrayal of Alec is amazing and his acting is always on par. I find that his performances always seem so natural and he gives Alec another layer that wasn't in the books. Also because of his ability to have chemistry with pretty much everyone on screen.
6) Who is your favorite actress in the TV show?
Right now it is Alisha Wainwright who plays Maia Roberts in the show. Especially after episode 9. Her acting was phenomenal and I love the way she portrays Maia. Maia was such a great character in the books and I think she fits the part perfectly. Can't wait to see more of her in the future!
7) Would you rather hear Jace play the piano, play video games with Simon, Jem play violin, or read a book with Will?
This is a hard one! However, maybe not as I am always a sucker for reading books, especially with handsome boys. Not that I've ever done it…but a girl can dream. Yet, I have to go with JEM. I am a huge Jem fan and I have always loved the violin, so I am all for listening to James play me a song!=
8) If you could have one rune from the book, what would it be?
I am going to go with the "Voyance Rune". It is the rune that allows Nephilim to see through glamours and see into the Shadow World. If that isn't a goal in life, I don't know what is!
9) What Downworlder would you most likely be?
Maybe a few years ago I would have picked vampire, but COME ON! Who wouldn't want to be a Warlock? I am all for the magic, even if you may end up with blue skin or a tail. That is what glamours are for, right? Immortality would be a bit of a downer at times, but still worth it in my opinion.
10) TMI or TID? 
TMI for sure. I did enjoy "The Infernal Devices", but "The Mortal Instruments" will always take the cake for me!
11) Who is the most hated character for you in the series?
You would think I would say Mortmain, Valentine, or Sebastian, but NO. It is the royal pain known as the Seelie Queen. She betrayed the Accords, kidnapped Magnus, Raphael, Luke, and Jocelyn, and was working with Sebastian. She is appearing in "Lord of Shadows" which is book 2 of "The Dark Artifices and I am somewhat excited, but I know I am going to hate her even more. I also Camille Belcourt…just because of page 511 in "City of Lost Souls".
12) If you could spend a day with any character, who would it be?
UH MAGNUS BANE. Let us portal to some foreign country and drink wine and talk about our lives together. Perhaps he could give me fashion advice as well. I would love to see what goes on in that mind of his!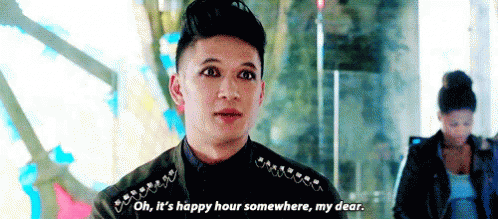 13) Favorite book?
It used to be "City of Glass", but currently it is "Lady Midnight". Probably one of Cassandra Clare's best work!
14) What did you think about CoHF?
I loved "City of Heavenly Fire". It destroyed me emotionally and even after I read it again. I was distraught. The deaths were horrible, even Jonathan's, but the epilogue was sweet and all of our heroes were together. Great ending to the six book series.
15) Thing you are most looking forward to in the fandom.
For "The Eldest Curses" to come out in November. If you don't know TEC is a trilogy about Magnus Bane and Alec Lightwood and the first book: "The Lost Book of the White" comes out in November! So as a huge MALEC shipper, I am THRILLED.
16) Worst cliffhanger?
I am going to agree with Mara and say the "Lady Midnight" cliffhanger. Mark's last words, "Why lie?" still haunt me and I cannot wait until book 2. Also, I need to know Clary's answer to Jace. Just say yes!
17) Favorite scene… ever?
How the heck am I supposed to choose? There are so many! Hmm… Okay, I got one. One of my favourite scenes in ALL THE BOOKS, is Simon's Ascension . It was a long time coming and once he got his memories back! I was screaming in joy! GO SIMON!
18)  Jem or Will?
James Carstairs please. Look, I love Will, but Jem is incredible. His journey is one of my favourites from being a sick warrior to a brilliant Silent Brother, and then back to a badass Shadowhunter…I mean, the man is amazing!
19) What scene/thing are you looking forward to in the Dark Artifices?
MALEC. MALEC. MALEC.
Oh and Mark and Kieran having their "marital" disputes. I love their dynamic so much.
20) If you could say one thing to Cassie, what would you say?
I would say, "Thank you so much for creating this world. I love to get lost in it and the humanity you incorporate through the monsters and demons makes it that much better. Your books inspire me as a writer, a reader, and a person! Thank you so much, you lovely woman."
21) If you can play one character in the TMI show, who would it be?
Clary or Izzy. I look more like Maia, but I would want to play a Shadowhunter so bad. I don't know if I could handle the intense training, but it would be amazing!
Okay, that's it. I would love to read your answers and your opinions on mine! Till next time lovely people
– Haley